Posted by Katie Rose on Oct 2nd 2015
New line of pushbuttons, indicators, and switches offers safety in all functions and applications for machinery and industrial automation applications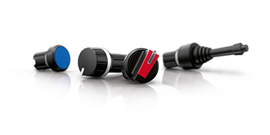 October 2015 – EAO Corporation, the expert partner for Human Machine Interfaces (HMI), announces the introduction of its Series 45 product line, addressing safety and reliability in all of the functions established within machinery and industrial automation applications. The Series 45 offers new unique opportunities as found within main operator panels, operator devices and handheld control units.
According to strict international safety guidelines, main operator panels, devices and handheld control units for machinery must be able handle start, stop, reset, selection, control and signal functions, as well as emergency stop and other general control functions. EAO meets these market demands with a mix of its current Series 14, 61, 72, 82 and 84. However, complementing these already existing products, the Series 45 now streamlines the need for multiple products into a single, all-inclusive source.
"The Series 45 unites an extremely broad range of machine operating functions with outstanding technical properties" said Lance Scott, President and CEO, EAO Corporation, North America. "It sets new standards in terms of ergonomics and design, robustness, functionality, reliability and safety."
The new Series 45 product line includes:
Pushbuttons
Illuminated Pushbuttons
Indicators
Keylock Switches
Selector Switches
Emergency Stop Switches
Stop Switches
Mushroom-head Pushbuttons
Toggle Sticks
Potentiometers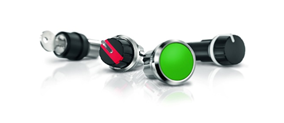 The Series 45 meets all the requirements of the world's leading machinery manufacturers, but also makes it possible to integrate machine interfaces easily and reliably into communications platforms located at a considerable distance from the central control system.
Additionally, the Series 45 is designed for robust use by meeting the requirements of the IP69K standard. Protection against dust penetration and liquid prevention is possible in the most adverse conditions. It's also resistant to aggressive cleaning agents, oils, lyes and other chemical substances. Furthermore, high humidity and extreme fluctuations in temperature have no impact on functionality, making the Series 45 ideal for the most severe conditions.
With a modular construction, the Series 45 products can be simply customized and configured to meet every application requirement. This makes it possible for easy and seamless integration into decentralized systems that are capable of performing virtually every HMI function.
"The Series 45 product range is a perfect complement to the existing palette of EAO products for machinery and industrial automation applications," added Lance Scott. "We believe that our North American customers are going to greatly benefit from this new innovation from EAO, and, in turn, better serve the end-users across all applications."
For more information, datasheets and photos, please visit: