Posted by Katie Rose on Dec 17th 2015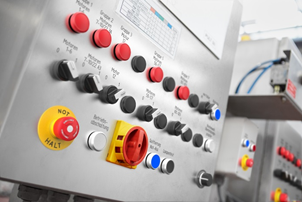 To best meet customer and application demands, EAO offers a comprehensive approach to the complex machinery market in order to meet the demands of main operator panels, operator devices, and handheld control units. As the expert partner for Human Machine Interfaces (HMI), EAO analyzes technical requirements, operating environments, ergonomics and commercial specifications to ensure that users and technologies sync together in order to provide unified results.
EAO's award winning and globally recognized HMI solutions include their Series 14, Series 61, Series 71, Series 82, Series 84, and Series 45 product lines along with the customized capability of designing and manufacturing complete HMI Systems to meet customer specific requirements.

EAO offers unique combinations of HMI Components and Systems, as well as value-added services to guarantee maximum customization and optimum functionality with a focus on the machinery industry.

Typical areas of application include:
Food and beverages
Semiconductor and electronics production
Packaging systems
CNC milling, lathing, grinding and boring equipment
Tobacco production and process control
Industrial lifting and handling automation
Pharmaceutical and chemical production and process control
Cooling and ventilation equipment
Textile production, including equipment for preparing, drying, spinning and weaving

"The key benefits not only include intuitive and reliable products and systems, but also EAO's extensive experience and knowledge regarding complex machinery application requirements." said Lance A. Scott, President, EAO Corporation, North America. "We offer a broad range of HMI Components and Systems, as well as a dedicated, professional, and expert team that specializes in our core competency of HMI technology."
For more information on EAO Corporation and the machinery market, please visit www.eao.com/machinery.