Posted by Katie Rose on Apr 11th 2018
The multiplexed Vehicle Electrical Center (mVEC) is an enhanced version of the Bussmann Vehicle Electrical Center (VEC) as it has a Controller Area Network (CAN) interface. The mVEC has VEC-like features (accepts plug-in components common to power distribution such as fuses, relays, circuit breakers, diodes, etc.) and is IP66 compliant. The mVEC incorporates the VEC 'power grid', an electrical component grid for power distribution functions, and the grid is electronically interfaced with a CAN control board that monitors the state of components and controls relays that are plugged into the grid of the mVEC.
The mVEC is a power distribution slave module that distributes power to other devices in a vehicle, and communicates over a CAN bus. Because it is a slave module, the mVEC relies on a master CAN module to control its relays and monitor component status messages. The mVEC is ideal for applications across numerous markets, including heavy truck, construction, agriculture, military, transit bus/coach, marine, recreational vehicle, and specialty vehicle applications. The mVEC is an excellent solution for power distribution systems that require the ability to control relays and monitor fuses and relays; and a cost effective replacement for complex, fully electronic (solid state) power distribution modules.
The mVEC's grid can be populated with industry standard plug-in components which use "280 series" terminals, including relays, fuses, circuit breakers, diodes, transorbs, resistors, and flasher modules. These components can be configured in many different ways to meet your system requirements.
The mVEC can be connected to 12 V or 24 V systems, or to vehicles with both voltages. The mVEC is based off the Bussmann VEC technology and it is possible to customize the mVEC (create a new variant) so that it is capable of functioning with varying electrical architectures. The mVEC can be enabled (turned-on) by battery voltage through an active-high ignition input or by ground through an active-low ignition input. The mVEC's CAN control board is protected against over-voltage transients and reverse-voltage conditions and its relay coil drivers are protected from short-circuits.
The mVEC communicates with other devices on the vehicle's CAN bus using the SAE J1939 protocol, and can be part of a multiplexing system that eliminates the need for individual connections between switches and loads. The mVEC works by receiving messages to turn its relays "on" and "off", and by sending messages indicating the state of its grid components.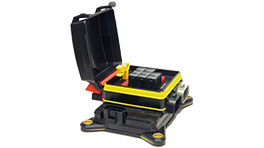 Spemco now offers these Mutiplexed systems. Click MVEC for the Eaton page which offers the features and additional information. Additional information is available in the data sheets and of course any of our knowledgeable sales staff can assist you in choosing which one is right for your application. These rugged, high powered, flexible vehicle centers are waterproof to IP66 which is a great feature in demanding environments such as automotive, marine, truck, bus, construction, agriculture and many more applications!
The integration into the vehicle's current system is easily explained and outlined in the user guide and makes the center a must have that consolidates multiple connections and is easily integrated. Contact Spemco today to see how the MVEC can make your application that much better!