Posted by Katie Rose on Aug 31st 2015

Hello everyone!

We have an awesome new anti-vandal switch to introduce to you today! It is our ULV4 series anti-vandal switch -- the newest line up to one of our most popular series. It has a 3 Amp rating and is UL-listed! Please read about it below and visit our website for more information.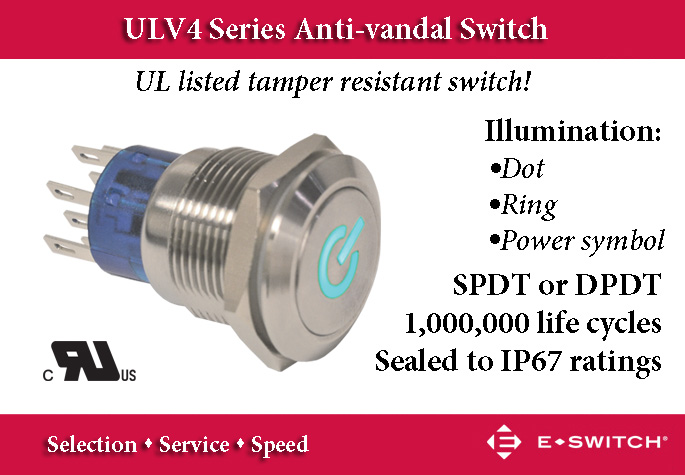 E-Switch announces the ULV4 series anti-vandal switch is our latest introduction in our popular anti-vandal series. It is the first one that is UL listed, offering a rating of 3A 250VAC. This switch has even more features: it is IP67 rated and has a long operating life up to 1,000,000 life cycles (momentary) and 500,000 (latching).

It has dot, ring or power symbol illumination options, many LED color options, and multiple voltage options - even custom graphic options are available! It comes with a 19mm panel cutout size and SPDT or DPDT function.
Specifications for the ULV4 series anti-vandal switch include:
Electrical Rating:
3A, 250VAC
Mechanical Life: 1,000,000 cycles (momentary); 500,000 cycles (latching)
Electrical Life: 50,000 Cycles
Contact Resistance: 50mΩ
Insulation Resistance: 1000 MΩ @ 500VDC
Dielectric Strength: 2,000VAC
Operating/Storage Temperature: -20°C to 55°C
Travel: 3.2mm
Moisture Protection: IP67
Contact Arrangement: SPDT or DPDT
Actuation Force: Single Pole: 2.5N; Double Pole: 3.5N
Panel Thickness: 1-10mm
Hex Nut Torque: 5-14Nm
Mechanical Impact Protection: IK10
Agency Approvals: cURus
ULV4 Series product detail page
ULV4 Series catalog data sheet