Posted by Katie Rose on Feb 11th 2019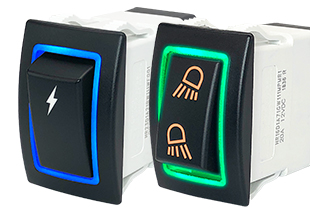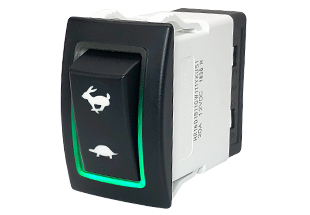 Direct from Carling's website:
The Stylish and Inventive New Hr Series from Carling
The HR-Series is a perimeter illuminated sealed rocker switch, featuring a stylish, low profile actuator that is available in either two or three positions. These rocker switches have a variety of dependent and independent illumination options; momentary and maintained circuits; and up to two customizable laser-etched legends.
The patented design supports the various illumination options and allows the switch to be rated up to 20 amps, eliminating the need for relays. The HR-Series is sealed to an IP68 level and endures a minimum of 200,000 cycles. Additionally, these low profile rocker switches fit the industry standard cutout.

Data Sheet

Contact one of our knowledgeable and friendly sales staff today to get this gorgeous new product from an authorized Carling distributor such as Spemco. Call us at 800-482-2828 or sales@spemco.com. www.Spemco.com
Spemco is happy to request a sample from Carling on your behalf. In order for a sample request to be processed you must provide the following information:
Company Name
Engineering and or Purchasing Contact
Application
EAU (estimated annual usage)
Shipping Address
All Sample requests are approved at Carling's discretion. Standard samples generally ship out directly from Carling via US Mail within 4-5 weeks, possibly sooner depending on stock, schedule, etc. Spemco is able to customize these stylish switches to be addressable with whatever you may need. With our value added department we are able to laser etch these with custom icons and or text.
Contact one of our knowledgeable and friendly sales staff today to get this gorgeous new product from an authorized Carling distributor such as Spemco. Call us at 800-482-2828 or sales@spemco.com. www.Spemco.com