Posted by Katie Rose on Jul 24th 2015
LD-Series
Sealed Rocker Switches
Description:
The LD-Series Dimmer Control represents a dynamic breakthrough in dashboard technology. This series offers fully programmable circuitry that can control minimum and maximum illumination levels, the number of steps from total dim to full bright, and adjust illumination levels.
The momentary ratchet design allows for programming of illumination intensity variation speed. It provides intuitive operator recognition and avoids inadvertent actuation. The LD-Series robust envelope protects critical internal components and minimizes electrical connections and the need for extra wires.
Adjustable safety features include a "watch-dog timer" that prevents device lock-up, and a memory device that recalls dimmer position after power interruptions.
The LD-Series dimmer controls feature snap-in mounting and offer choices in ratings, dimming rates, colors, actuator styles & illumination colors, and laser-etched legends. This series has an operating temperature of -40C to +85C. It exceeds SAE J1113 and SAE 1445 EMI standards and mechanical endurance of 100,000 actuations.
- Excerpt from The Carling Website
http://www.carlingtech.com/controls-ld-series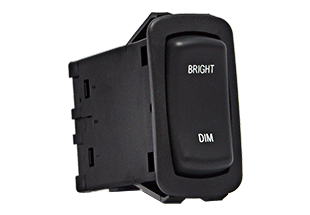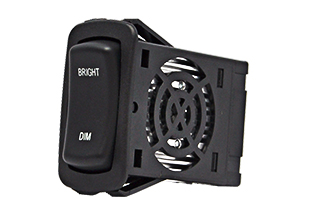 Spemco carries a variety of these dimmer switches that are an asset to any dashboard application. They are illuminated, we carry, red, green and amber in different lamp voltages. They light up the imprinting such as "Bright & Dim" and have a dimming rate of 0-100% with 11 positions. They are rated sealed at IP67 which means they are totally protected from dust and are protected from temporary immersion in water 1 meter deep for up to 30 minutes.
So if you have this stylish switch in your boat panel or industrial machinery you can rest assured it is protected from the elements. It is offered with the easily connected .250 quick connect terminals (or push on as some people call them). Which makes them easily assembled to your existing harness.
Need a custom panel built? Spemco can do that for you too. From creating an entire new panel populated with all the switches, circuit breakers, indicator lights and whatever else you may desire. Call us today for a quote!