Posted by Katie Rose - Direct Announcement from the Factory on Aug 19th 2015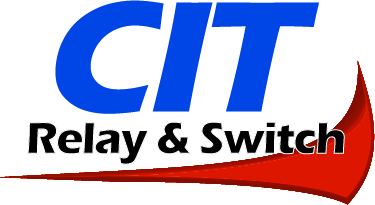 J115F1 Series Relays up to 50 Amps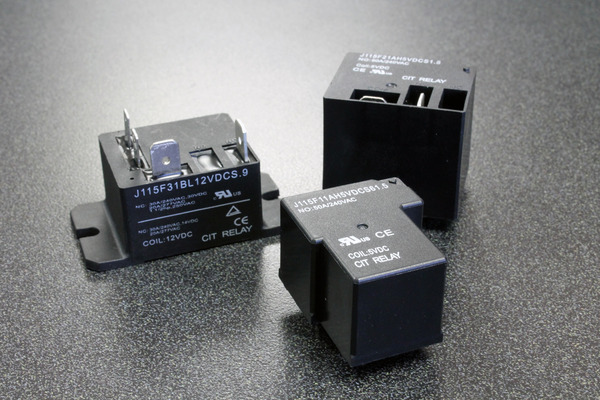 CIT Relay & Switch J115F1 50 amp Relays
CIT Relay & Switch is now offering the J115F Series with 50amp rating. The rugged J115F Series has high dielectric strength coil to contact up to 4000Vrms. Heavy contact load is a hallmark of this high performance relay. Small in size and robust, the J115F1 is UL/cUL certified and RoHS compliant. It is UL F class rated standard.

Specifications: Contact arrangement is 1A SPST N.O., 1B SPST N.C., and 1C SPDT. with contact rating of 50A@240VAC N.O. & 35A@240VAC N.C. Contact resistance is less than 30 milliohms; contact material is AgSnO2 or AgSnO2In2O3. Tested electrical life of the J115F Series is 100k cycles with mechanical life of 10M cycles. The dielectric strength is 4000Vrms minimum coil to contact for the high dielectric strength option, 2500Vrms minimum coil to contact and 1500Vrms minimum contact to contact. Insulation resistance is 100MW minimum at 500VDC. Shock resistance is 200m/s2 for 11 ms and vibration resistance is 1.50mm double amplitude 10~40Hz. Operating temperature is -55°C to 125°C with storage temperature of -55°C to 155°C. Solderability is 260°C for 5s. Weight for J115F1 is 30g, 27g without cover. Weight for J115F2 is 35g and J115F3 is 37g.

Pricing ranges are dependent upon options and volume. Contact CIT Relay & Switch for lead-time information.

The CIT Relay & Switch J115F1 Series is a perfect solution to the long lead-times for the Song Chuan 832 Series and the obsolete G8P Series from Omron. Contact CIT Relay & Switch today to find your replacement!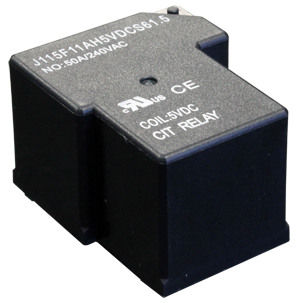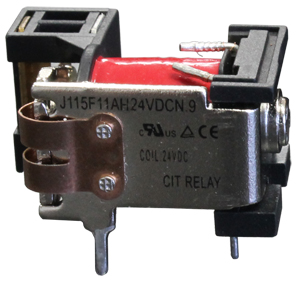 CIT Dedication Makes a Difference
CIT Relay & Switch manufactures a broad line of automotive, telecom, security, industrial and HVAC switches and relays in thru-hole and surface mount styles. Our focus is on customer service and quality combined with cost-effective manufacturing. We hope you will give CIT the opportunity to demonstrate to you why so many are joining our growing list of satisfied customers. Our customers rely on the service and quality provided by the team at CIT Relay & Switch.