Posted by Katie Rose on Nov 20th 2015
Expands product range for rough usage in heavy duty and special vehicles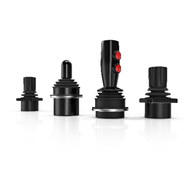 November 2015 – EAO Corporation, a global leader for Human Machine Interfaces (HMI), announces the introduction of its configurable Series 09 joysticks, specifically designed for heavy duty and special vehicles.

The joysticks offer intuitive end-user operation, robust construction and reliability. Typical applications for the joysticks include construction and agricultural machinery, fire engines and municipal cleaning vehicles. Series 09 joysticks are designed to accurately control vehicle functions such as hydraulic lifting equipment, powered safety equipment and other auxiliary functions.
These new offerings from EAO are fully customizable and feature a modern design and minimal back panel depth. Each joystick is capable of being individually configured to meet various application requirements.
These joysticks can be rear or front mounted and feature various fixing rings. The Series 09 operates within a scope of 3 axes and feature a variety of handle options. The durable construction allows the Series 09 to operate in temperatures from -30ºC to 80ºC, and last more than 3 million actuation cycles.
Each Series 09 Joystick is certified according to EN standards, and the materials used comply with the high EAO standards for quality functional service life and design. They are fully compatible with standard interfaces including CAN, J1939, SPI or USB.
For more information on the Series 09 and EAO, please visit:
http://eao.com/north-america/en_us/countries/sales-companies/north-america/09