Posted by Katie Rose on Sep 9th 2015
EAO Corporation Introduces Series 84 Halo Compact
Provides most common status indication features in a single solution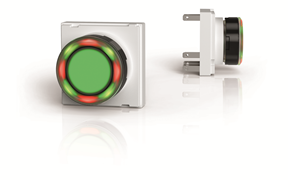 EAO Corporation, the expert partner for Human Machine Interfaces, announces the introduction of the Series 84 Halo Compact, a unique and newly developed multi-functional illumination switching element that has the ability to provide the most common status indication features in a single all-in-one solution.

Typical applications for the Series 84 Halo Compact include a wide range of market applications such as:
Machinery control panels

Operator controls in special vehicles

Medical equipment

Public information kiosks and vending machines

Access control and emergency call boxes


Instruments for audio and video technology
The Series 84 Halo Compact's switching elements have the ability to provide ring illumination of five different colors within the lens as well as a white LED that can illuminate the center of the lens. Moreover, the switching element also makes it possible for as many as eight different status messages to be easily displayed. Additional features include top of the range version with bi-color LED illumination and an integrated electronic switch for maintained action. It also offers more than one million cycles of operation, ensuring product reliability and an above average service life.