Posted by Katie Rose on Oct 15th 2015
EAO Offers New Machinery Brochure
Provides expert viewpoint on operational reliability and end-user safety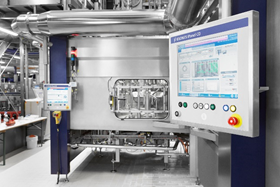 SHELTON, Conn., October 2015 – EAO Corporation, the expert partner for Human Machine Interfaces (HMI), announces the availability of its new machinery brochure offering insight into HMI components and systems for the machinery and industrial market.
Since 1947, EAO has been a pioneer within the field of HMI. This brochure illustrates their extensive experience in developing and manufacturing HMI Components and Systems for both basic and complex industrial machinery. It discusses the reliability, flexibility and safety of EAO's range of HMI Components and Systems for main operator panels, operator devices, and handheld control units.
To best meet customer and application demands, EAO analyzes technical requirements, operating environments, ergonomics and commercial specifications to ensure that users and technologies sync together to provide seamless results all within a 'best practice' approach.
For more information and to download the brochure, please visit:
http://eao.com/fileadmin/documents/PDFs/en/02_market-brochures/EAO_Machinery_Brochure_EN.pdf