Posted by Ron Gmeiner on Nov 2nd 2014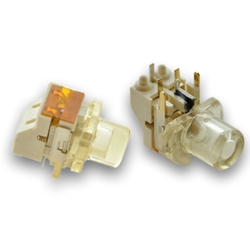 TL1270 Series Right Angle Illuminated Tact Switch
The TL1270 series tact switch is the newest product release from E-Switch. With LED illumination, this switch comes with a right angle design, tape & reel packaging, gold or silver contact options, and a long or short cap.
The LED colors include blue, red, yellow, white or a green/yellow bi-color option.
The applications and markets for this switch include consumer electronics, medical devices, audio/visual, computer peripherals, instrumentation, telecommunications and more.
Specifications for the TL1270 series tact switch include:
Contact Arrangement: SPST, normally open, momentary

Contact Rating: 50mA, 12VDC
Contact Resistance: 500 mO Max
Insulation Resistance: 100 MO Min. @ 100VDC
Dielectric Strength: 250VAC for 1 minute
Electrical Life: 300,000 cycles
Operating Temperature: -40°C to 85°C
Storage Temperature: -40°C to 85°C
Travel: 0.20mm
Actuation Force: 160 gf, 250 gf

TL1270 series catalog datasheet