Posted by Shelby Winn on Aug 31st 2018
EAO now offers the new Series 45 double push-buttons that bring together a very broad range of machine operating functions with fantastic technical characteristics.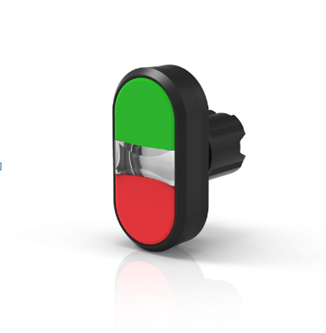 The Series 45 double push-buttons are a cost-effective space-saving solution that provides additional potential for applications with two independent buttons in a single device. Double push-buttons are easy to mount and are perfect for machinery control functions such as 'stop and start'.
Advantages of the double push-buttons include:
Compact construction – two switches in one device
Range of colors and marking options
IP66, IP67, IP69K protection
Optional illumination
Plastic or metal versions
Up to 3 contacts for each push-button
"The actuators offer a wide range of configuration possibilities and are available in a red/green or black/white color combination along with a choice of flush or raised lenses. Select from plastic or metal front bezel construction and up to three contacts per push-button can be added. Illumination is displayed within the center window between the two buttons. An optional silicon protective cap enables IP66 and IP67 protection, even in the actuated state. The double push-buttons are available in momentary function without a mutual interlocking mechanism."
To learn more about the EAO Series 45 Double Push-buttons, please visit https://eao.com/uk/en/45/functions/doublepushbuttons.