Posted by Shelby Winn on Oct 4th 2019
Space-saving design provides reliable, high-intensity illumination with 180° visibility
SHELTON, Conn., Sept. 2019- EAO, the expert partner for innovative, intuitive and reliable Human Machine Interfaces (HMIs), offers the Series 14 Indicator Compact. Safe and reliable status indication is a necessity for applications within machinery, industrial automation, processing, food and packaging equipment, robotics and specialty vehicles. These indicator units are the ideal solution by providing high-intensity, homogeneous LED illumination and 180° all-around visibility while packaged in a compact, space-saving design.
With a minimal back panel depth of just 9.5mm, a small outer diameter of 33.5mm and a polyamide seal, Series 14 Indicator Compact units function reliably in confined spaces. Additionally, installation is made easy with connectivity through push-in-terminals (PIT).
The Series 14 Indicator Compact is ideal for harsh, industrial environments due to robust front protection (up to IP69K) and IK07 impact resistance. It provides safe and reliable illumination for more than 50,000 operating hours in both interior and exterior locations, as well as applications that experience increased levels of humidity or extreme temperature fluctuations.
These units can handle an operational voltage range between 14 and 32 VAC/DC, with a current consumption of less than 50mA, and feature a range of customization options including colors, connectors and cables.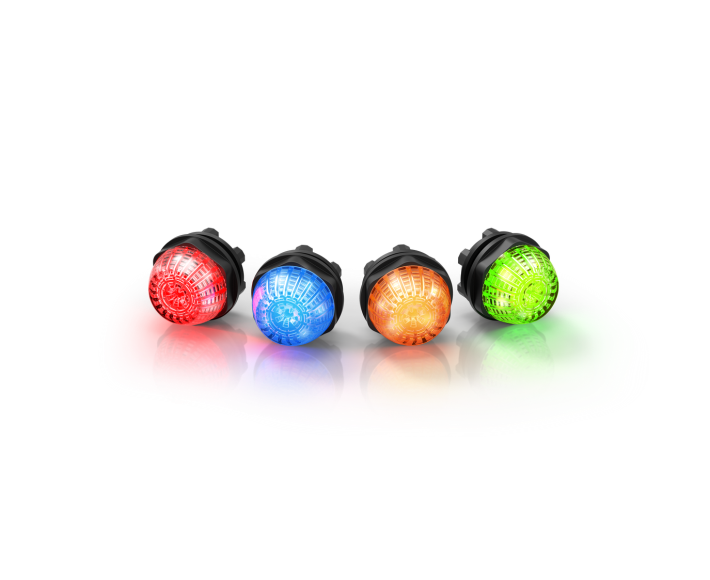 Key advantages of the Series 14 Indicator Compact:
High-intensity illumination
Long service life of more than 50,000 operating hours
Compact, space-saving design
Domed lens provides 180° all-around visibility
Easy mounting with reliable PIT terminal
IP69K Protection and IK07 impact resistance