Posted by Shelby Winn on Jul 30th 2018
"Featuring an extra-large operating area, the clearly visible palm switch is ideal for use in harsh environments where sudden, uncoordinated movements must suffice to trigger a certain command. The device can either be operated with a flat hand, work gloves, or with an elbow. Unique advantages of the Series 45 Palm Switch are:
▪Extra-large operating area
▪Suitable for emergency stop functions
▪Maintained or momentary action available
▪Quick to install and easy to use
▪Robust IP69K front protection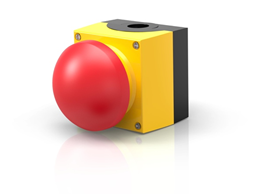 For additional application flexibility, the Palm Switch is shipped pre-installed in an enclosure that requires switch elements to be purchased separately. Cables can be connected on the upper or lower front side of the housing via a metric M20 threaded connection (the screw joint and switching elements are not included in the shipment).
The Palm Switch is also available in four standard versions in combinations of red or black caps, momentary or maintained action, and plastic or metal enclosures."
To learn more about the EAO Series 45 Palm Switch, click here.
A PDF datasheet on EAO's Series 45 line is also available here.