Spemco Stocks Apem's IP Series Momentary Push Buttons.
They were designed for harsh environments are are sealed to IP67. With a mechanical life of 1,000,000 cycles you can count on Apem's quality product to see your project through. Ideal for industrial applications, car wash applications, control panels and the such this versatile product can be used virtually anywhere a quality momentary push button is needed!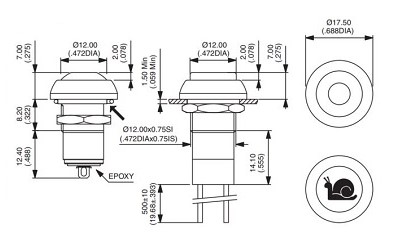 Dimensional information listed above gives more details as to how this product is able to be customized and is for illustrative purposes only and does not necessarily reflect the individual product listed above. This part is available for purchase on our website at IPP3SAD6 or if you need a quote for larger quantity or a custom designed option please call us at 800-482-2828 or EMAIL us.
Order Yours Today!