Posted by Shelby Winn on Aug 1st 2018
"The PVT4 Series anti-vandal switch is a single pole momentary off-on push button switch with crisp tactile response. This switch allows the option for a wire lead or to terminate the standard solder lug terminals yourself. It shares the same stainless-steel material, ring illumination, and panel cutout size of 19mm. With the same flat actuator and basic LED colors with the standard the PV4 series. It also provides IP65 rated protection.
The PVT4 Series offers either two termination options - solder lug or wire leads (300mm), 19mm diameter panel cutout and 490 gram actuation force. This electrical rating is 50mA, 24VDC, provides 0.5mm travel and 500,000 cycles.
Common applications for the PVT4 series anti-vandal switch include consumer electronics, security devices, industrial controls, kiosk panels, electrical house ware and medical equipment."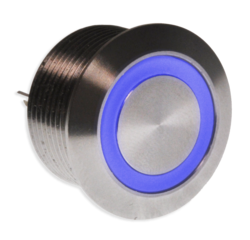 SPECIFICATIONS
Electrical Rating: 50mA, 24VDC Electrical Life: 500,000 Cycles
Contact Resistance: 50mΩ Max. Insulation Resistance: 1000 MΩ Min.
Dielectric Strength: 250VAC
Operating/Storage Temperature: -25°C to 55°C Travel: 0.5mm Moisture Protection: IP65 Contact Arrangement: SPST Off-(On)
Actuation Force: 490 grams
Panel Thickness: 1-6mm
Mounting Nut Torque: 0.8Nm
Data sheet, click here.
Other...